As many aspire to become great leaders, it is necessary to remind that leadership does not substitute for day-to-day operational excellence. Indeed, teams first need better decision-makers, and then better leaders.
Having a growth mindset does not substitute for day-to-day operational excellence
"What makes a great leader?", "How to inspire people and be a successful leader?", "Top 10 tips for becoming a great leader". Personal development literature and digital content platforms are swarming with articles on how to grow your leadership skills. The action of leading a group of people towards success contains many aspects such as the developing and sharing an inspiring vision, creating a sense of urgency to generate change, empowering and providing sponsorship… However, what teams are really expecting from the management is much more practical than it seems. Indeed, interviewing teams, the most pressing issues are not related to a lack of "leadership" but to poor "decision-making capabilities".
Exploring team feedbacks related to leadership and decision-making
Based on Steerio data, a people analytics solution that leverages team feedbacks and data science to augment teamwork, we analyzed +3000 team feedbacks (n=3357) that are related to leadership and decision-making (across a sample of 30 randomly selected projects). For each of the two dimensions (leadership & decision-making), team members were invited to provide feedback by rating anonymously different statements on a 0 to 10 scale. The statements referred to different aspects of leadership and decision-making respectively such as:
Leadership (example of statements):
I am clear with the short- and long-term objectives of the project
Teamwork and efforts are coherent with the organization long-term strategy
The leadership invests the necessary resources for the initiative to succeed
I feel inspired to contribute to this project
Decision-Making (example of statements):
The project approach is properly structured and key milestones are clearly defined
Stakeholders are properly informed before having to make decisions
Project meetings are properly structured and efficiently managed
Actions resulting from decisions are properly prioritized
Teams are more critical regarding decision-making than leadership skills
After having aggregated all teams data and studied the repartition of the answers for Leadership and Decision-Making on the graph below: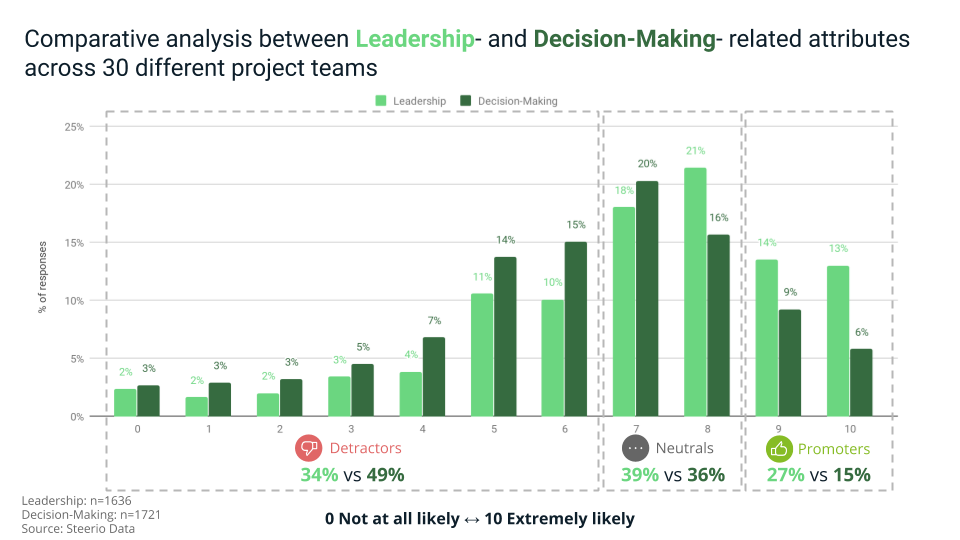 Beyond the typical bell curve, we observe that the feedbacks related to leadership are more skewed to the right that those related to decision-making. Teams are, on average, rating Leadership attributes more positively than Decision-Making attributes (6.9/10 against 6.5/10).
Takeaway: getting decision-making right for the sake of team performance
When normalizing the data with the NPS methodology (as presented in a previous Steerio Insight article about debiasing people feedbacks), the Decision-Making gets a Team-NPS of -36pts (negative) which is significantly worse than the Team-NPS calculated for Leadership with -7pts (rather neutral):
These results show us that being able to drive the discussion and taking-decision is a more critical aspect than management leadership skills. Indeed, the ability to move forward by taking timely decisions and having proper steering processes in place has a direct impact on team performance and work experience, while leadership skills relate to more long-term and aspirational aspects. In a nutshell, it seems that managers are stronger at sharing a vision than getting the project decision-making process right. Next time, before asking yourself whether you are a great leader, make sure that you are a sound decision-maker.