Implementing feedback loop is critical to successful teamwork. Therefore most people ask themselves: 'How to ask for feedback?'. Let's take it the other way around: On what topic project team is more willing to give feedback?
As a manager, have you ever craved to get feedback either from your project team or from your client? Getting regular feedback about what is working well and what can be improved is critical for your day-to-day works as well as for your long term development. Several tools and methods are available to leaders, managers, and teams on the 'How' - 'How to ask for feedback?' or 'How to give feedback?'. But let's take it the other way around: 'On what topic will are project team willing to give feedback?'. Analyzing Steerio data - a feedback platform for high-performance teams - we identified clear patterns. Indeed some topics are more likely to get proactive feedback than others when surveying project teams and clients.
Which topics are likely to get feedback from the project team, and which are not...
We extracted a random sample of feedbacks that have been proactively formulated (these comments are optional) by project teams on Steerio during the summer. We sorted them according to teamwork dimensions (see Steerio methodology) and looked at which dimension got the most comments. We got the following repartition: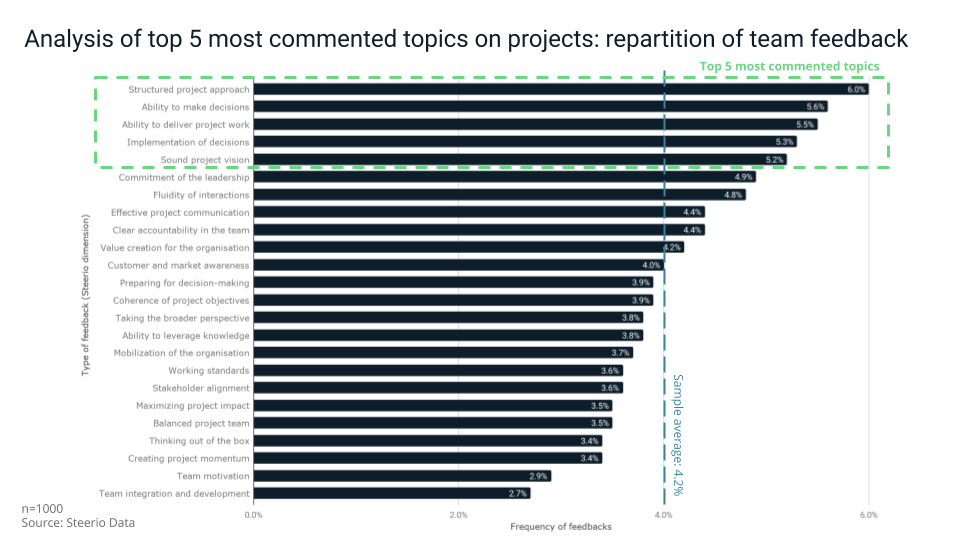 5 feedback-prone topics to engage your team
Looking at the chart we can clearly identify 5 topics that got more proactive feedback from project teams. Based on this list, it's easy to identify best-practices actions to put in place in order to maximize team success.
1 - Do we have a structured project approach?
Getting feedback about the quality of the project approach is critical to get teamwork properly structured, aligned and productive. When working on client engagements, it is also best-practice to get regular feedback from stakeholders (sponsors, counterparts...) and identify potential communication loopholes. Here are 3 typical elements on which you can get insights quite easily:
Clarity of the project scope (what we do and what we don't)
Definition et communication of key project milestones
Transparency on project progress tracking and status updates
2 - Are we able to make decisions?
Many initiatives are crippled by poor decision-making. Actually being able to structure and organize the decision-making process is one of the key skills of successful project managers. You want to check whether decision-making is running smoothly on your project, check whether:
The relevant stakeholder and decision-maker onboard
Project meetings are efficiently managed and structured
Team members and stakeholder feel that decisions are made on-time
3 - Are we going to deliver the next milestone on time?
Most projects are following a top-down approach - from agenda-setting to progress reporting - with indirect communication flows. When managers or PMO (Project Management Office) request progress updates from workstreams, having middlemen consolidating project information form the frontline generates information loss and sometimes agency effects. Therefore, it is important to directly ask teams directly wether:
The team will deliver the desired outcomes with high-quality standards on time
The team has all the required skills and capabilities to achieve its objectives
The project team is making continuous progress
4 - Are we good at implementing the decisions we make?
Following-up with the decisions that have been made is often a weak point on projects. Being sure that no ball is dropped in the process is key to meet the expectations and keep project teams engaged. Therefore, on a regular basis, ask whether:
Key decisions are properly documented and communicated (through meeting minutes for example)
Project decisions are always well prioritized
Execution risks are properly identified and are attached with mitigation actions
5 - Do we have a clear project vision?
Last but not least, having a clear project vision is the cornerstone of project success. It is one of the key aspects of transformational leadership. Managers need to make sure that the vision is clear, shared and advocated by every stakeholder:
Does everyone understand the short- and long-term objectives of the project?
Are the expected outcomes of the project clear?
How the team is going to achieve the desired project objectives is clear to every team member
Getting regular feedback from the team on those critical project aspects is often much easier than we think. Actually, team members are personally committed to project success. They are willing to make suggestions to make teamwork better. Managers just have to open the dialogue and involve them directly. Feedback platforms such as Steerio can help you to gather, structure and get the most of team insights to deliver successful projects.